Meghan Trainor: online il video di "Nice to Meet Ya" ft. Nicki Minaj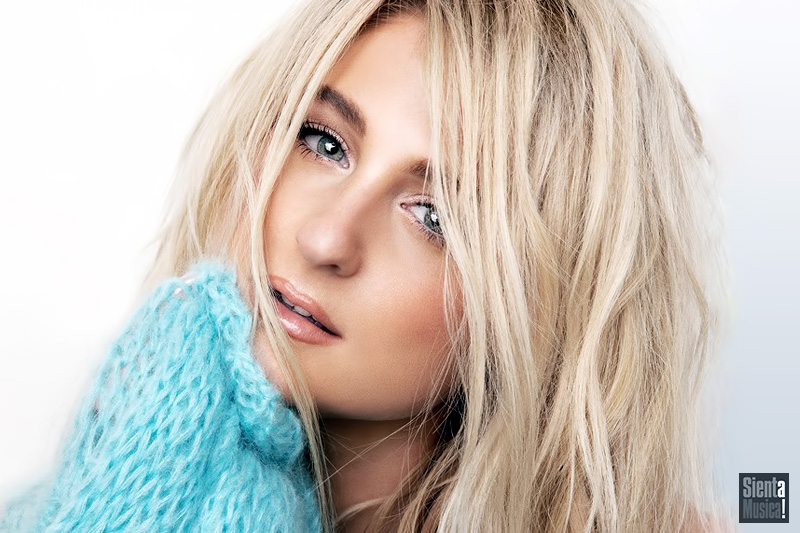 Meghan Trainor ha pubblicato online il video del suo nuovo singolo "Nice to Meet Ya" tratto dal suo terzo album "Treat Myself", rilasciato il 31 gennaio per Epic Records/Sony Music Entertainment.

Il brano vede la collaborazione per la prima volta con Nicki Minaj, con la quale Meghan è coautrice del testo insieme a Scott Harris, Mark Williams e Raul Cubina.

La produzione è stata curata da duo Ojivolta (Mark Williams & Volta).
Il videoclip ideato da Meghan Trainor, è stato diretto da Mathew Cullen e prodotto da Luga Podesta.
"NICE TO MEET YA" – Testo (Lyrics) e Traduzione
[Intro: Meghan Trainor & Nicki Minaj]
Nice to meet ya (Mmm, ooh)
Nice to meet ya (Ooh)
Nice to meet ya (Meghan Trainor)
Nice to meet ya (Let's go)
[Verse 1: Meghan Trainor]
I used my makeup to hide (Hide)
Tellin' you there ain't nothin' I haven't tried (Tried)
Changed my hair, but I couldn't change up my mind (My-my-my mind)
You know I've been tryna work it (Yeah, yeah)
You know ain't nobody perfect (Yeah, yeah)
Go ahead, go talk about me (Me)
You don't know the half of the shit that I've seen (I've seen)
Go ahead and tell them whatever you heard (What you heard)
I look different on the surface (Yeah, yeah)
You know ain't nobody perfect (Yeah, yeah)
[Chorus: Meghan Trainor]
I am blessed by the heavens
Someone's got a hold on me
Sweet, but I get rough, just what I wanna be
What I wanna be, just what I wanna be
I don't know you, but
I am blessed by the heavens
Someone's got a hold on me
Sweet, but I get rough, just what I wanna be
What I wanna be, just what I wanna be
I don't know you, but I'm just what I wanna be
[Post-Chorus: Meghan Trainor]
Nice to meet ya
Nice to meet ya
Nice to meet ya
Nice to meet ya
[Verse 2: Meghan Trainor]
I used to care way too much (Much)
Filtered myself, I thought I wasn't enough (Enough)
Now I'm givin' myself nothin' but love (But l-l-love)
'Cause I know that I am worth it (Yeah, yeah)
I know ain't nobody perfect (Yeah, yeah)
[Chorus: Meghan Trainor]
I am blessed by the heavens
Someone's got a hold on me
Sweet, but I get rough, just what I wanna be
What I wanna be, just what I wanna be
I don't know you, but
I am blessed by the heavens
Someone's got a hold on me
Sweet, but I get rough, just what I wanna be
What I wanna be, just what I wanna be
I don't know you, but I'm just what I wanna be
[Post-Chorus: Meghan Trainor & Nicki Minaj]
Nice to meet ya
Nice to meet ya
Nice to meet ya
Nice to meet ya, rrrr
[Verse 3: Nicki Minaj]
Who you gon' call when you ain't got the, uh
Me and Meghan run up in the spot like, uh
I pop off 'cause I am the reigning champ
Please no comparisons 'cause you know they can't
Had to cut the grass, there was snakes in the camp
They know I'm the billy, I be laughin'
Ha-ha-ha-ha-ha-ha-ha-ha
One minute, I'm nice, the next, a monster
My guest house alone cost like three tickets
And that Rolls truck and that paint job real wicked
Used to dumb, dumb myself down for these chickens
Now when dem, dem talk, I smile, it be crickets
Boom, I turn every head when I walk in the room
Pretty in real life, hit my pics with the zoom
A ten when they rate her like tomb
Elevator to the penthouse, we ain't stoppin' anytime soon
[Chorus: Meghan Trainor]
Oh, yeah
Blessed by the heavens
Someone's got a hold on me
Sweet, but I get rough, just what I wanna be
What I wanna be, just what I wanna be
I don't know you, but I'm just what I wanna be
[Post-Chorus: Meghan Trainor, Both & Nicki Minaj]
Nice to meet ya (Ah, ah, ah)
Nice to meet ya (Oh, mmm)
Nice to meet ya (Oh, Ooh)
Nice to meet ya
"TREAT MYSELF" – TrackList e Cover
01. Wave (feat. Mike Sabath)
02. Nice to Meet Ya (feat. Nicki Minaj)
03. Funk
04. Babygirl
05. Workin' On It (feat. Lennon Stella & Sasha Sloan)
06. Ashes
07. Lie To Me
08. Here To Stay
09. Blink
10. Genetics (feat. The Pussycat Dolls)
11. Evil Twin
12. After You (feat. AJ Mitchell)
13. Another Opinion
14. No Excuses
15. Have You Now