I Silk Sonic fuori con "Leave The Door Open"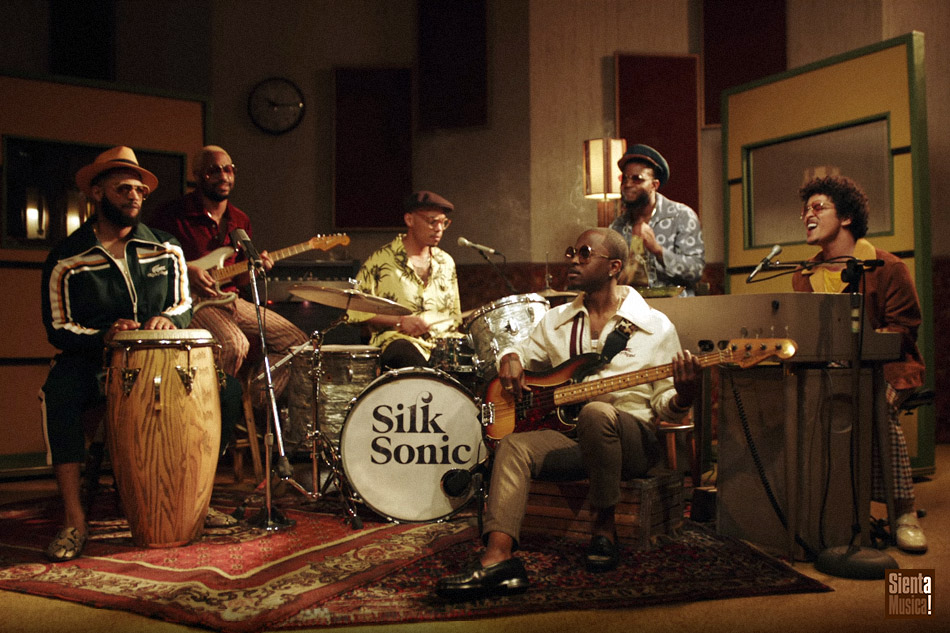 I Silk Sonic, la nuova band formata da Bruno Mars e Anderson .Paak, hanno pubblicato il loro primo singolo "Leave The Door Open".
Questo nuovo progetto, segna il ritorno di Bruno Mars a ben cinque anni di distanza dall'album "24K Magic'" (2016).
Il sodalizio con il cantante, batterista, rapper e produttore discografico statunitense Anderson .Paak, darà vita ad un album intitolato "An Evening With Silk Sonic", tra i cui musicisti troveremo il leggendario bassista Funk Bootsy Collins.
Se "Leave The Door Open", con il suo groove dal sapore Anni '70 è l'anticipazione, siamo ansiosamente in attesa di ascoltare il disco.
Il brano è accompagnato dal videoclip, diretto dallo stesso Bruno Mars insieme a Florent Dechard.
"LEAVE THE DOOR OPEN"
[Intro: Anderson .Paak]
Said baby, said baby, said baby
[Verse 1: Anderson .Paak]
What you doin'? (What you doin'?)
Where you at? (Where you at?)
Oh, you got plans? (You got plans)
Don't say that (Shut your trap)
I'm sippin' wine (Sip, sip) in a robe (Drip, drip)
I look too good (Look too good)
To be alone (Woo, woo)
My house clean (House clean), my pool warm (Pool warm)
Just shaved, smooth like a newborn
We should be dancin', romancin'
In the east wing and the west wing
Of this mansion, what's happenin'?
[Pre-Chorus: Bruno Mars]
I ain't playin' no games
Every word that I say is coming straight from the heart
So if you tryna lay in these arms
[Chorus: Bruno Mars]
I'ma leave the door open
(I'ma leave the door open)
I'ma leave the door open, girl
(I'ma leave the door open, hopin')
That you feel the way I feel
And you want me like I want you tonight, baby
Tell me that you're coming through
[Verse 2: Anderson .Paak]
You're so sweet (So sweet), so tight (So tight)
I won't bite (Ah-ah), unless you like (Unless you like)
If you smoke (What you smoke?) I got the haze (Purple haze)
And if you're hungry, girl, I got filets (Woo)
Ooh, baby, don't keep me waitin'
There's so much love we could be making (Shamone!)
I'm talking kissing, cuddling
Rose petals in the bathtub
Girl, let's jump in, it's bubblin'
[Pre-Chorus: Bruno Mars]
I ain't playin' no games
Every word that I say is coming straight from the heart
So if you tryna lay in these arms
[Chorus: Bruno Mars]
I'ma leave the door open
(I'ma leave the door open)
I'ma leave the door open, girl
(I'ma leave the door open, hopin')
That you feel the way I feel
And you want me like I want you tonight, baby
Tell me that you're coming through (Ooh, girl)
[Bridge: Bruno Mars & Anderson .Paak]
La-la-la-la-la-la-la (I need you, baby)
La-la-la-la-la-la-la (I gotta see you, baby)
La-la-la-la-la-la-la (Girl, I'm tryna give you this, ah)
[Chorus: Bruno Mars]
Hey, hey, I'ma leave my door open, baby
(I'ma leave the door open)
I'ma leave, I'ma leave my door open, girl
(I'ma leave the door open, hopin')
And I'm hopin', hopin'
That you feel the way I feel
And you want me like I want you tonight, baby
Tell me that you're coming through (Woo!)
[Outro: Bruno Mars & Anderson .Paak]
La-la-la-la-la-la-la (Tell me)
Tell me that you're coming through
(Woo-woo-woo-woo, woo-woo-woo, woo-woo-woo)
(Woo-woo-woo-woo, woo-woo-woo, woo-woo)
La-la-la-la-la-la-la (La-la-la-la-la)
Tell me that you're coming through
Girl, I'm here just waiting for you (Oh!)
Come on over, I'll adore you (I gotta know!)
La-la-la-la-la-la-la (I'm waiting, waiting, waiting)
Tell me that you're coming through (For you)
Girl, I'm here just waiting for you
Come on over, I'll adore you
La-la-la-la-la-la-la