Lady Leshurr è online con il nuovo video "#Unleshed"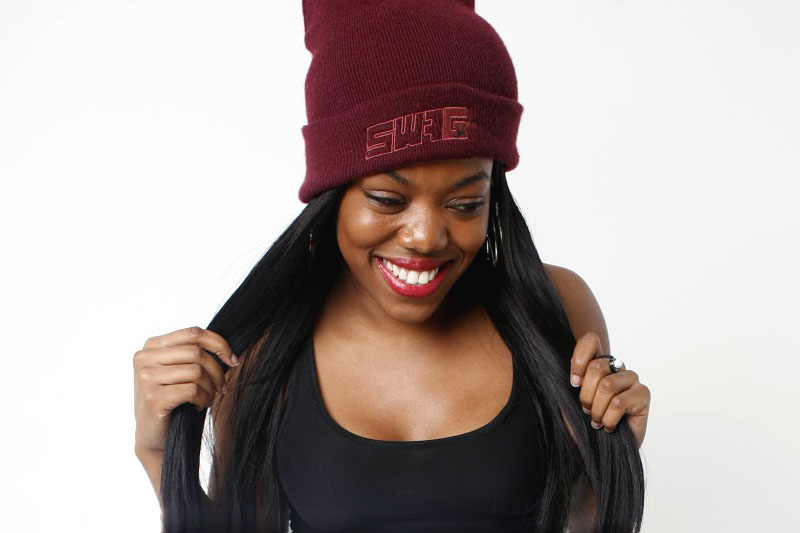 La cantante inglese Lady Leshurr, ha pubblicato il video di "#Unleshed" (Panda Freestyle).
Il brano fa parte del suo nuovo lavoro discografico in uscita tra qualche mese, un progetto che mostra il suo lato più oscuro …
Scarica liberamente e ascolta #Unleshed (Panda Freestyle).

"#Unleshed" – Testo (Lyrics)
Intro
I'm not the one to call when you're in danger
Look I'm not the one to call Cus you're a stranger
I'm not the one to call when you're in danger
Verse 1
First off shut your gob
Don't be mad Cus I took the spot
Why are you so concerned about me
When Ya mouthpiece looks like a crusty cob
You must be dumb
If you're number 2 I must be 1
Becah gyal will get beat like Rapompapom
So don't big up your chest in your wonder bra
You battyfish
Wa gwarn what's happening?
When I was in the lab just cooking up
You was somewhere in the club daggering
Man I'm Savaging
Done with the talk, through (threw) javelin
Yeah I might have big teeth on a rabbit ting
But I'm still here (hare) and I'm still managing
And you're where? Look panicking
I don't care, shrug ain't having it
My whole years booked, travelling
You're nowhere, stuck stammering
You See me shook, MC hammering
Garn! Left the room
Get P Money just cheque the views
Don't know who you're stepping to
Cus I'm ahead I'm not next (necks) to you
Kill em all dead I'll execute
Get them cross so I'm xing you
I'm at the top now I'm vexing you
I am your mom you're my second yute
You're my yute man
I call you Miranda
Miranda!
Chorus
Who are you blood?
Who are you
Who are you don?
Who are you
Verse 2
To the people that dissed Queen Speech
Let's see your bank balance
Cus brush your teeth got my mom a mortgage that was the tool you spanners
I'm grown
SO WHAT!!
Respect your olders have some manners
Cus I'm sure age ain't got nothing to do with talent
Dammit
I don't know what their problem is
Leave me alone stop butting in
Don't make me have to get onto tings
And Don't move your mouth not one to kiss
I'm a 10 J in me
Alphabet
Don't @ me
You'll never see me round bare man or gyal Cus I don't need anybody to back me
That's me
I've gotta keep it classy
I be getting chauffeured
You be getting taxi
I be in the front you be in the back seat
Names on ya lip like a moustache be
Likkle fish, salty
Somebody get em some akee
I'm old school like acky acky
123 is you
I'm one you lose
I'm gone you're who?
Remind me again
Just for the bants I'll hubby and wifey your friends
So you're mad for life
You will see me everyday
Girls wan be me in every way
Break your cd up in ya face
Like snap
I don't wanna hear it
You look stink I don't wanna breathe in
I be in the house you're housekeeping
I be in and out you're in the house sleeping
Give you the business come to the meeting
Please stop tweeting.
You look DEAD with your natural hair
You look DEAD when you've got weave in
Jesus
Still I can't believe it I can't believe the cheek
And still
A New MC is born everyday of the week
And still
You don't wanna do this nar
Things might just get peak
And still
You don't wanna do this nar
Think before you speak
Are you serious
These girls are Delerious
They must be on their periods
Move from me with your smelly bacterias
That's not cute
Claim you're a bad girl that's not you
I'm gonna blow like that's hot food
Gassed Cus you got a blue tick on your Twitter rude boy but what's apps got two
Like Whoah
Slow down a minute
Slow down the Flow down a minute
I am the Queen you'll get thrown (throne) down a minute
I be In the whip window roll down a minute like
Know your role now a minute
Better get back you'll be shown in a minute
And they know when I flow that I'm cold with the lyrics
Two L's on my name here's both hold that a minute
New T shirts they sold in a minute
Video views was froze couple minutes
Money doubling (Dublin) it
I land (Ireland) everyone knows when I'm in it
Sold out show in New York
Grime on a Samsung advert?
Coldest sickest
Why can't people just respect what I've actually done for myself
I used the struggle and pain in my journey getting here to humble myself
I'm the Queen of the scene,
Might aswell royal rumble myself
I ain't breaking bread with nobody I'll rather crumble myself
Verse 3
100 rounds I'm 1 hunna
Coming round in the summer
Try take the the L you'll get bun up
Try bring me down Cus I'm tun up
I'm not the one to make fun of
Don't run up your mouth you'll get run up
I'll come in your house and put my foot up
Like Erm what's for supper
Everybody knows I'm Chris I'll tucker in
At night time with another win
Flows all over the place like a drunk your flows dry have another gin
You're dumb
And you're dumber
It's all peace I'm Mrs lover lover
But I'll heat it up yeah I'll cook her
Pukka
Bluku