Bruno Mars, Anderson .Paak, Silk Sonic nel video ufficiale di "Skate"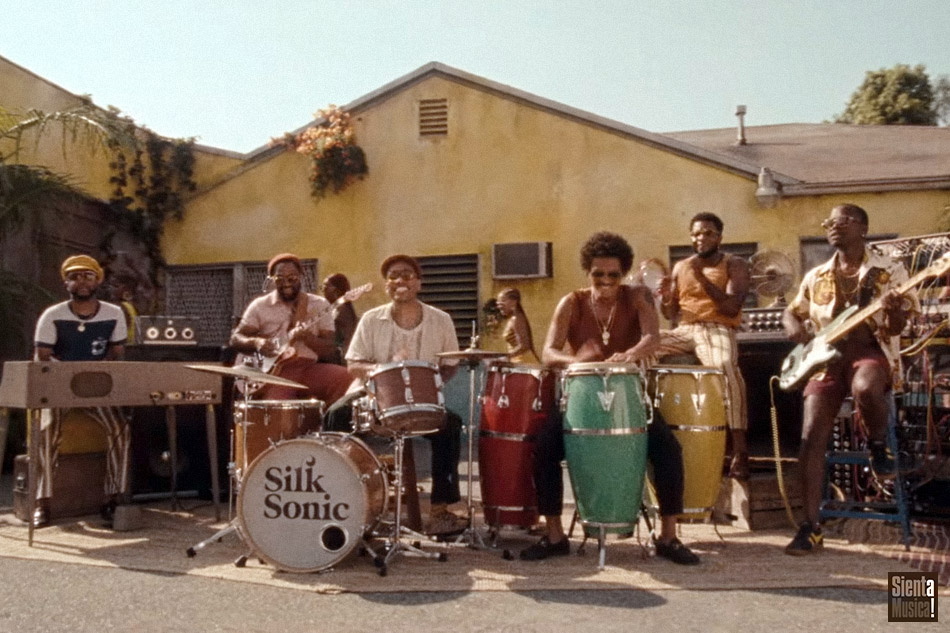 È fuori "Skate", il secondo singolo di Silk Sonic che arriva dopo quasi quattro mesi dal loro debutto con "Leave The Door Open", brano che ha riscosso un successo mondiale con circa 350 milioni di visualizzazioni solo su YouTube.
"Skete" è stata presentata in anteprima insieme a un video musicale diretto da Bruno Mars and Florent Dechard.
Nella clip, molto simile a quella di "Leave The Door Open", vediamo Bruno, Anderson .Paak e il resto di Silk Sonic che cantano e suonano i loro strumenti mentre fanno una serenata ad un gruppo di ragazze che gli girano intorno.
"SKATE"
[Intro: Anderson .Paak]
Oh my, oh my
[Verse 1: Anderson .Paak]
In a room full of dimes
You would be a hundred dollars
If bein' fine was a crime
Girl, they'd lock your lil' fine ass up in a tower
The way you move like you do
Ooh, it's like you do it for a livin'
Do a lil' spin, do it again
Shit, look like you playin' for the win, oh, baby
[Pre-Chorus: Bruno Mars & Anderson .Paak]
I'm tryna roll, I'm tryna ride
I'm tryna float, I'm tryna glide
No, no, don't be shy, just take my hand and hold on tight
[Chorus: Bruno Mars]
Oh, skate to me baby (Skate)
Slide your way on over (Slide your way on over)
Oh, skate to me baby (Skate)
I wanna get to know ya (I wanna get to know ya)
Come on
Oh my, oh my
[Verse 2: Bruno Mars]
Got your hair in the wind and your skin glistenin'
I can smell your sweet perfume
Mmm, you smell better than a barbecue
Oh, superstar is what you are
I'm your biggest fan
If you're lookin' for a man, sugar, here I am
Ooh
[Pre-Chorus: Bruno Mars with Anderson .Paak]
I'm tryna roll, I'm tryna ride (I'm tryna vibe with ya darlin')
I'm tryna float, I'm tryna glide
Oh, no, no, don't be shy, just take my hand and hold on tight
[Chorus: Bruno Mars]
Oh, skate to me baby (Skate)
Slide your way on over (Slide your way on over)
Oh, skate to me baby (Skate)
Uh, I wanna get to know ya (I wanna get to know ya)
[Bridge: Anderson .Paak & Bruno Mars]
I never fall, but tonight you got me fallin' for you
And only you, you
I'm reachin' out in hopes that you reach for me too
Girl, let's groove
Girl, you got me singin' "Ooh"
My, oh my, my, oh my
My, oh my, my, oh my
[Chorus: Bruno Mars]
Oh, skate to me baby (Skate)
Come on, slide your way on over (Slide your way on over)
Oh, skate to me, baby (Skate)
Ah, I wanna get to know you, girl (I wanna get to know ya)
Skate to me, my baby (Skate)
Just slide your way on over (Slide your way on over)
Oh, skate to me, my baby (Skate)
I wanna get to know ya (I wanna get to know ya)